Quai 5160, Verdun. Photo by Normand Blouin
Based on the number of display modules that Artpublix has distributed, 2021 could well be the year that marks the widespread adoption of this type of furniture to create outdoor events aimed at wider audiences.
Indeed, about 20 municipalities, institutions and cultural organizations across Quebec have used display modules with the aim of animating a park, a street, an esplanade and attracting citizens and visitors with high quality historical or artistic content.
Among them, the City of Quebec, which presented exhibitions in several different places as one the 13 municipalities across the province where the CSN presented various aspects of its exhibition "From the saw to the computer: a century in the life of the working class ".
There are also boroughs of Montreal such as Lasalle and Outremont, cultural organizations, including the Headquarters of the Canadian Naval Reserve, the Nivar-De Saint-Dizier Museum, the Grand Théâtre de Québec, Quai 5160 – Maison de la culture Verdun, as well as many cities that have seized the opportunity to present photographic works to their citizens in an outdoor context – Laval, Mascouche, Repentigny, Pointe-Claire, Amos, Sainte-Catherine, Thetford Mines, Saint-Jérôme, La Tuque, Sainte-Agathe-des-Monts and Gatineau.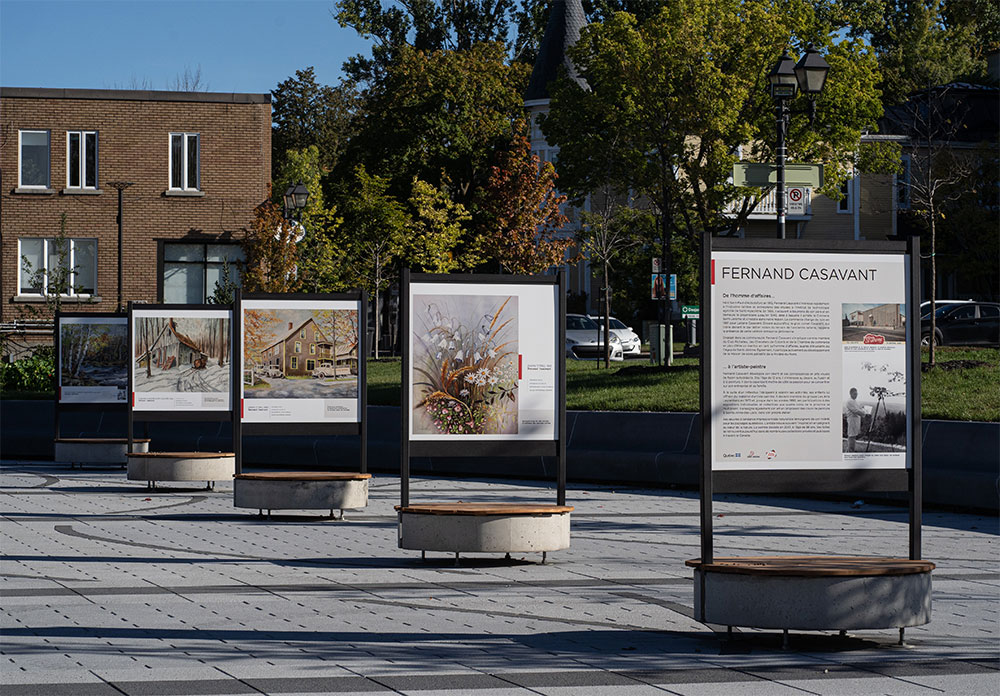 Jardin des Arts, St-Jérôme. Photo: Normand Blouin
The themes and content varied, but what always took precedence was a desire to show and share.
In front of the Saint-Roch Recreation Center Library in Quebec, it was the work of cartoonist Guy Delisle that was presented. Also in Quebec City, at the Carré d'Youville, Première Ovation Danse exhibited photos of the work by recent scholarship recipients. This exhibition then moved and extended to Dorchester Bridge.
At the Grand Théâtre, Radio-Canada Québec dedicated an exhibition to the institution's 50th anniversary by recounting, in images, several of the key moments in the history of the theatre.
In Pointe-Claire, a suburb of Montreal, the Stewart Hall art gallery offered photographic works from its permanent collection.
In Saint-Jérôme, the works of the painter and entrepreneur Fernand Casavant were admired by the public at the Jardin des Arts.
As we can see, the diversity is there, interest is growing and everything seems to indicate that the trend towards outdoor exhibitions, in varied and original contexts, is now well established.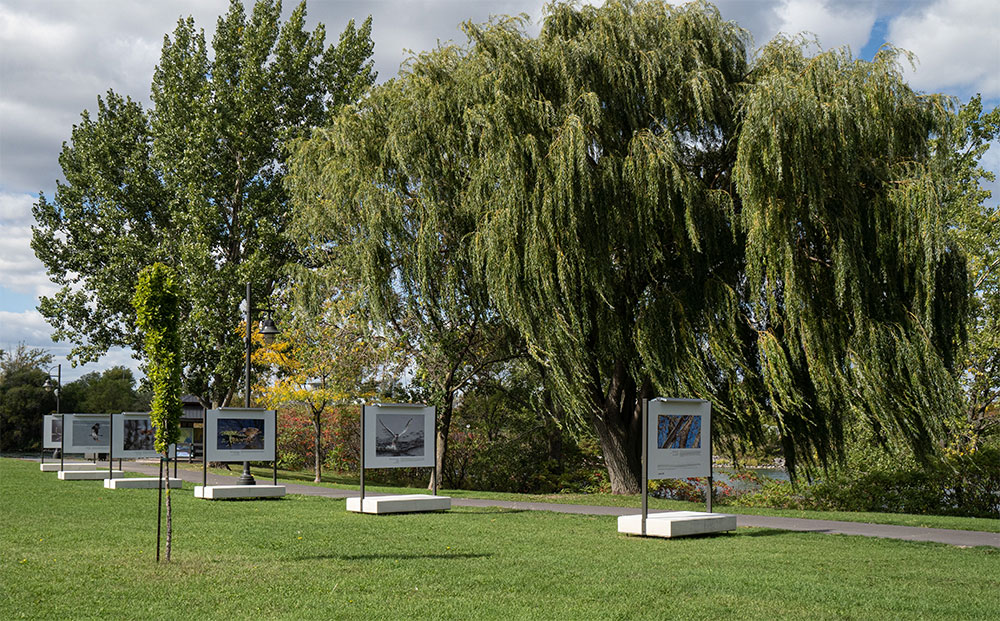 Optimist Park, Ste-Catherine Photo: Normand Blouin